Meeting Capacity At TaylorMade Golf
TaylorMade Golf Company is an American manufacturer of golf clubs, bags, and accessories based in Carlsbad, California, United States. For more information, visit their website at www.taylormadegolf.com
Other Testimonials: Herbalife | New Limeco | Hudson News | USDA Tobacco and Cotton
"We operate a 70,000 square foot warehouse that distributes TaylorMade golf clubs throughout the United States. We have about 50 full-time employees, and that goes up to about 120 employees in season.
"We're about to move to a new consolidated North American distribution facility, and CASI has been there with us every step of the way. They're basically going to pack up the whole system and set it up as it was, but in the process, they'll be upgrading it to handle even more types of items. They've been really easy to work with."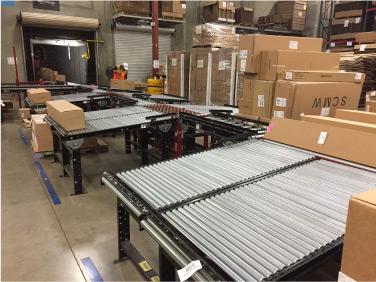 Reliable, Durable, and Easy to Service
"One of the major benefits of the CASI system is that replacement parts are not proprietary, with most components and parts being available off-the-shelf from sources other than CASI. What you commonly see in systems like this is that you have to order components or replacement parts directly from the manufacturer or their distributors. With CASI, we get to avoid that altogether and go to a local supplier for our parts. That's usually faster and costs us less in the long run.
"The system doesn't require a lot of services to begin with, so our maintenance guys are really happy with the quality and durability of the design. The uptime is extremely high, and when we do have a problem, the people at CASI are very responsive. Our maintenance guys have built close relationships with the support staff over there. That goes a long way to keeping our team happy and our system productive."
Unmatched Value
"I would absolutely recommend the CASI system. The value for the money is far superior to what we have experienced dealing with other companies. For our business, not only was CASI the most reasonable in terms of price, but 10 years of history have proven to us that the system is very serviceable, durable, and a great option for our warehouse."
– Kevin Limbach, VP, U.S. Operations and Service